Khyber Pakhtunkhwa Public Service Commission Roll No Slips 2023
Essay, English (Precis & Composition), General Knowledge-I (Everyday Sciece), General Knowledge-II (Current Affairs), General Knowledge-III (Pakistan Affairs), Islamiat, Accountancy & Auditing, Economics, Business Administration, Public Administration, Political Science, Agriculture, Forestry, Sociology, Journalism, Pure Mathematics, Applied Mathematics, Computer Science, Statistics, Physics, Geology, Geography, Chemistry, Botany, Zoology, Islamic History & Culture, History of Pak. & India, British History, European History, History of the U.S.A., Law, Constitutional Law, Mercantile Law, Muslim Law & Jurisprudence, International Law, International Relations, Philosophy, Psychology including Experimental Psychology, Sindhi, Pushto, Punjabi, Balochi, English Literature, Urdu, Persian, Arabic
Updated on: 03-02-2023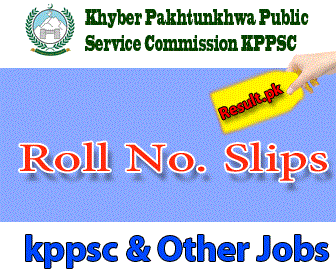 Khyber Pakhtunkhwa Public Service Commission is a public authoritative body to make syllabus and conduct competitive exams for the posts of different government departments. The KPPSC takes written test, interview and psychological test from the desired students and the passing candidates are referred to the related department of the government. These competitive exams are held once in a year. The purpose of these exams is to extract cream of the nation for the required important governmental posts.
According to the schedule of the exams, the roll number slips are issued according to a regular schedule. All the important things including roll number, examination centers, examination schedule etc. are mentioned in the roll number slips. To those students who pass the written exams, the KPPSC issues roll number slips of interviews and psychological tests. The KPPSC issues the roll number slips through post and the soft copy is also available at the website of KPPSC.

Apart from KPPSC, now we are also giving the opportunity to the candidates of KPPSC to download their roll number slips from this site. Therefore, if there is any problem to the candidate of KPPSC to attain his/ her roll number slip, then he/ she can easily take the required roll number slip from this site by downloading the roll number slip.
KPPSC Roll No Slips 2022
Khyber Pakhtunkhwa Public Service Commission 2023
Khyber Pakhtunkhwa Public Service Commission Roll No. Slips 2023
News Title
Class
Date Time
Add a Comment
Comments will be shown after admin approval.
Spam comments will not be approved at all.